Children of the Night
Why do we do the things that we do? We get jobs to support ourselves financially, and we find partners to fulfill our intrinsic desires for companionship, lineage, and the sharing of our own interests and dreams. My co-host and I talk about horror. Why? Because it's what we love to do in life.
This podcast began as a passion project, and to this day it remains just that. It was a twist of fate that I was inspired by a random stranger to even consider creating a podcast, and it was a great pleasure that my good friend – and now co-host – Samael decided to commit his time and energy in helping it grow. We were hanging out one day, as we had been nearly every week for about a year or so, and I brought up the idea. Sam was thrilled, and so we sought out more information. My former internship director just happened to post on Facebook about media resources for students and graduates, and that is how we were able to link up with Roger Castillo at Sports Radio Detroit.
Roger was just as excited as we were about the prospect of a laid-back but exciting horror podcast specifically located in the Metro Detroit area. We had planned for weeks; we had a whole notebook filled with branding concepts, episode topics, and more. From there we bought the equipment, and the rest, as they say, is history.
Horror has always been something that I'm supremely passionate about, and I think I can speak for Samael when I say that he's just as invested in it. I grew up watching horror with my father, and having nightmares after watching The Shining, The Haunting, and loving every second of Army of Darkness. Sam has tons of nostalgic stories as well, but I'll let him tell you those.
As a filmmaker, it's my dream to make horror for the big screen, but I absolutely love talking about it too. The existence of Grave Discussions is almost too good to be true. Sam Raimi turned his passion into one of the greatest horror film franchises of all time, and so did John Carpenter, Wes Craven, and Tobe Hooper. They started with nothing more than ideas, and that's what we've done here too.
So why am I telling you all of this? Well, I figure it's a good way to let everybody know just what Sam and I are all about; what this podcast is about. As for what we're trying to achieve with it? We want to be the premier horror podcast on every platform, where you, the listener, can come to get your news. Where you can come to interact with us about anything you want. To talk new horror, old horror, get reviews, know what you should stay away from on demand – or not. We want to be your source for horror everything. Most importantly, though, we just want to have a damn good time doing it.
---
You can expect additional blog posts relevant to actual horror films, news, television, and more from now on. We hope that you enjoyed this little introductory article though; please don't hesitate to write to us with any suggestions you may have for written content, ideas for podcast episodes, or just to say hello! You are the most important part of this entire project.
Thank you.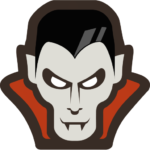 – Barnabas